Hire a Mini Moke in Barbados!
A moke is a great way to see Barbados - as you travel around the island you feel closer to the road, the scenery and the culture. They always put a smile on people's faces and are great fun to drive - just be prepared to get a splash or two if it's raining!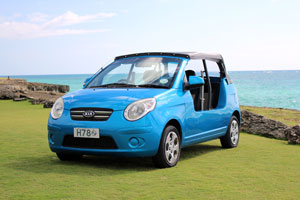 What is a mini moke?
The original mini mokes were small, topless, modified versions of the British Mini car. These days they are modified from safer, more modern alternatives but still retain the spirit of the originals. 
They are topless, doorless, very light-weight and nimble - they make for great island cars!
Where can I rent a mini moke in Barbados?
At Stoutes Car Rentals of course! We have a fleet of mini mokes available for rental, professionally maintained to the highest standard for you to rent in a range of colours.
What is it technically?
The modern mini-moke variants still maintain the spirit of the originals but with all the safety and comfort of a modern car. So you will have automatic transmission, a radio, lockable trunk and convertible soft top along with all the mechanical advantages of a modern car.
The model that Stoutes Car rent is based on the Kia Picanto. It can comfortably seat four people, all seat-belted in of course, it has a safety roll hoop, there is room for a medium sized suitcase and small bags in the trunk and we've even had people strap their surfboards securely to the rollover bar.
The automatic transmission makes it very straight-forward to drive, with coilover suspension it handles the roads very safely. The original steel body is modified to remove the doors and roof, replaced with fibreglass.